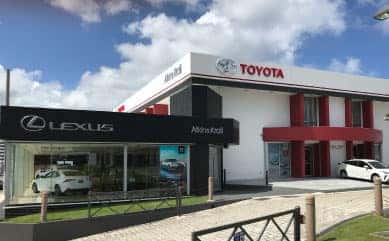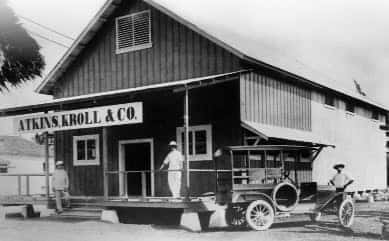 Hover over the photo for AK Today
Humble Beginnings
The story of Atkins Kroll Guam began on the western shores of the United States, way back at the beginning of the twentieth century. It was in 1906 that G.H. Atkins and Clifton Kroll established Atkins, Kroll and Co., Ltd in San Francisco. Within a few years they were already looking to expand, and in 1914 they established this very business on Guam.
During World War II, the operations at Atkins Kroll here on Guam were interrupted. Luckily, though, Guamanian employees of Atkins Kroll found a way to keep the company records during that time, helping to ensure the future of the business. After the war, Atkins Kroll played a big role in helping to revitalize the economy and community after the war was over.
The Inchcape Group acquired Atkins, Kroll Co., Ltd and its Pacific subsidiaries in 1974, and in 1981 Atkins Kroll closed up shop in San Francisco with primary operations now on Guam and throughout the Guam-Micronesia region. Atkins Kroll Inc. remains the largest auto distributor throughout the region to this day.
As the oldest corporation on Guam, we're proud to have served generations of individuals and families in Hagatna, Dededo, Yigo, the Naval Station and Anderson Air Force Base, and beyond. We are convinced that our success as the #1 auto dealer on Guam has a lot to do with our dedication to our customers and the high quality of our vehicle inventory and services. We hope you'll consider us for all your automotive needs now and in the future.

Morrico Equipment
Based on the island of Guam, Morrico Equipment was established in 1990 by Allan Morrison along with founding directors Ross Morrison and Torgun Smith. After being acquired by Atkins Kroll, Inc. (an Inchcape Company) in December 2021, Morrico Equipment continues to be one of the largest heavy equipment dealerships in Guam and Micronesia.
Morrico Equipment specializes in new and used heavy equipment sales, rental, parts, diesel fuel delivery, Trashco Guam, and diesel repair service to Guam, the Northern Mariana Islands, the Federated States of Micronesia, the Republic of the Marshall Islands, and the Republic of Palau.

Avis Bugdet Payless Rental Group
Avis, Budget, and Payless Rent a Car is a leading global provider of vehicle rental services. In April 2022 Atkins Kroll Inc. announced its acquisition of the rental brands across six islands in Micronesia to include Guam, Saipan, Tinian, Rota, Pohnpei, and The Republic of Palau as part of the company's Accelerate Strategy designed to maximize significant opportunities as the industry navigates unique changes.
Visit Avis Car Rental
Visit Budget Car Rental
Visit Payless Car Rental